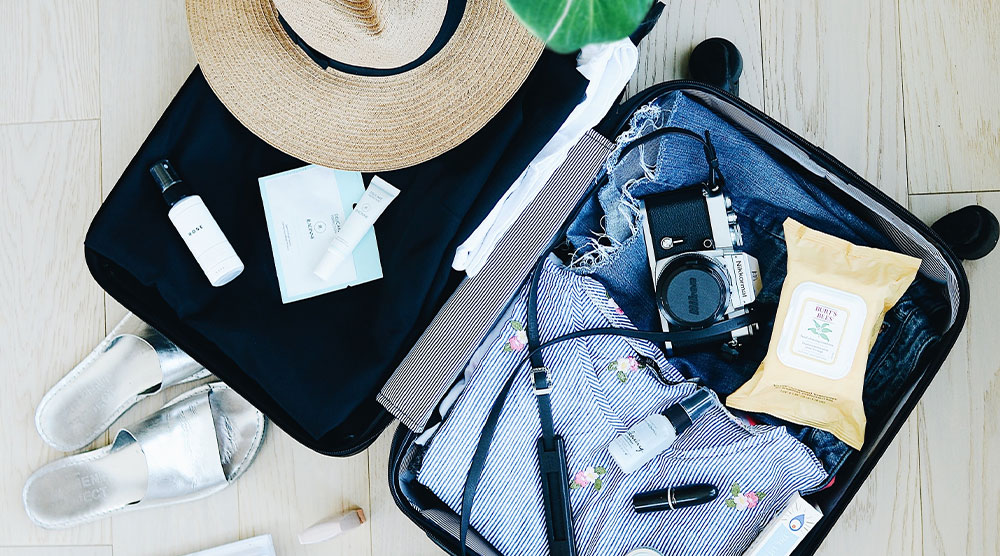 Picture this. You've arrived at your destination. You're over all of the airport and security fuss. You've stepped off the plane and dealt with the flight boredom. Now your holiday begins! But wait- what have you forgotten? Finding out you've left something at home when it's too late can be a huge annoyance.
Everyone will have a different view of what is 'essential'…. For example, In our Travel Trends Survey 2019, 1 in 4 respondents said they bring tea bags with them when going away! However, here is our list of holiday essentials to help you along your way when you're packing for your next adventure.
Travel Documents
Make sure you bring a physical copy of all relevant documentation. This includes your ID, any visas, hotel and travel insurance documents. For extra reassurance, ensure you have a digital copy of these at hand as well.
Headphones
You can save yourself a lot of stress by remembering headphones, it'll make your travelling and journeys in between much easier to deal with.
Padlock
This will secure your luggage and may also help you identify your bag on that never-ending conveyor belt!
Brush/Comb
Avoid the scruff! It is surprising the number of people that forget to pack a brush/comb when going away.
Toothbrush
…You're thinking, really? But it does happen! Luckily they're easily replaced wherever you are.
Deodorant
It may seem silly, but if you forget your deodorant it can be really hard to find UK deodorant in another country. Make sure you don't have to risk any unfamiliar alternatives!
Travel Adapter
No! your battery is on 5% and you need to plug in your charger, and now you've realised you didn't pack any adapters. Travel adapters are much handier to come across and cheaper back at home.
Prescriptions or medication
It's absolutely essential to ensure you have ample medication you need before going away. It can be difficult to obtain abroad and will most likely come at a hefty price! It's also a good idea to check you have enough for a few days after you return to save any further hassle.
Chargers
Your electronics will need juice wherever you go. If you have one, make sure you pack a portable charger too!
Sunglasses
Many of you forget to pack your sunglasses and run to the closest shop to get some. You'll not want to spend a lot if you have them at home, and cheaper glasses abroad could result in UV damage or irritation to your eyes.
Plasters
When you need a plaster, you don't exactly have the time to go looking. Be prepared and bring different sizes with you and try to ensure they are waterproof. It's also a good idea to bring along blister patches, because nothing else helps when you need them.
Antiseptic cream
From insect bites to grazes, there are many uses of antiseptic cream. You could save yourself a few pounds by dealing with minor medical ailments yourself and reducing the risk of needing any further medical attention.
Makeup and insect repellent wipes
These wipes will come in handy as they save you luggage space and means you won't be as worried about a leak in your case!
Moisturiser with SPF
From skiing to safari, you'll still need to protect yourself against those rays. Have a moisturiser with SPF in it (to wear underneath sun cream), and reduce your risk of harm.
Sun cream
Sun cream is expensive, especially on holiday! Remembering to pack it before can save you a few extra pounds and you'll still be protected.
Ziploc bags
Never underestimate the handiness of a Ziploc bags. These bags can be used for dirty washing or wet swimwear, and will also make sure you're prepared for airport security with your liquids!
Obviously, don't forget your clothes! Even so, you'll have your routine and home comforts that you will need once you're away. This list will be different for everyone, but we hope our essentials list has helped you recap everything you may need for your next holiday and we hope you have a great time away!