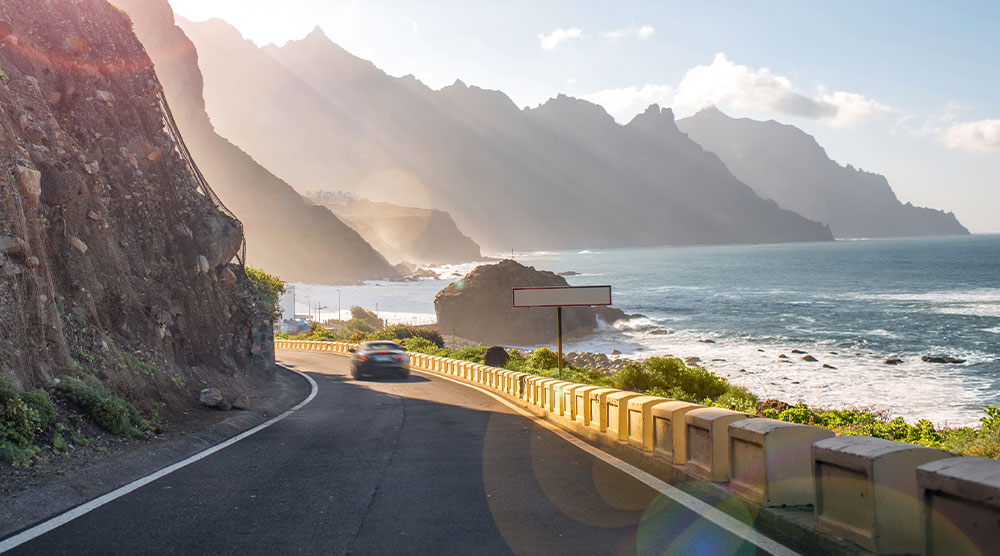 Driving a hire car can be a daunting experience in its own right, never mind while you're abroad. Here, Jaimi McIlravey from IAM RoadSmart talks us through her experiences of driving a hire car abroad for the first time.
A friend and I booked a short break to my family home in Murcia, Spain – and with the airport being 30 minutes' drive and the beach being a 10-minute drive from the house, we opted to hire a car. The last time I visited the family home was six years ago and I was too young to even hire a vehicle. So arranging a hire car was exciting but a little scary as neither of us had driven a left-handed manual car. The only time I had driven abroad was to France four years ago. So, I was a little nervous to attempt to drive on the 'wrong' side again, but even more so to operate a left-hand-drive manual car.
On arrival in Spain…
We arrived in Spain at 10 pm and searched for our hire car company – hoping that the queue with over 30 people wasn't where we had booked it from. Thank goodness it wasn't, however with three people ahead of us, it still took 45 minutes to get the car. Before getting in the car we gave it a look over to ensure there wasn't any damage that they could potentially charge us for. There was a slight scratch and after informing the company we began our journey.
Driving at night…
Driving from the airport in the dark, on the right-hand side of the road was difficult – especially with a nervous passenger who also didn't know where we were going. After 30 minutes of "you're too close to the white line" and "is this the turning, I can't see the sign," we were finally there.
Luckily in Spain, most of the locals have dinner later in the evening and with a restaurant within walking distance, we were able to ditch the car at the house and stretch our legs. The rest of the holiday consisted of beach days, with a straight road to the beach which was fairly easy to get to.
Here are a few of my thoughts after reflecting on booking a hire car:
Ensure you have a credit card – many companies will hold around £1,000 deposit in case of any accidents or damage.
Learn a little of the language, or enough for you to get by – especially when the time comes to refuel. I had already learnt that a petrol station in Spanish is la gasolinera or estación de petroleo. However, they don't write these on signs so you may need to ask your car hire which the best fuel station will be to fill up.
Find out Sunday trading hours if you're due to fly home that day. Driving around for 45 minutes looking for an open petrol station was more stressful than I'd like to admit!
Know your route. Maps on my iPhone didn't detect a new road, so instead took us down a chalk track of what can only be described as a death trap. The old road was situated right next to the new motorway. We then had to manoeuvre a dodgy U-turn and head back.
Refuel before dropping your car back.
When returning the car, make sure that the company checks the car whilst you are there. The last thing you want is to return home with charges taken from your card – which was exactly what happened to us. When we handed the car back, it was full of fuel and we'd been perfectly safe driving it with no incidents. We asked a member of staff to check over the car before we left, he came back to ensure that car was in perfect condition and we signed off on it
Arriving home…
Four days later there were three separate charges to the credit card mounting up to £300. When contacting the company, they told us we had to pay €50 admin charges and the rest they were unsure of and refunded us. So be sure to question any extra charges.
In conclusion, driving on the opposite side of the road in a left-hand-drive car wasn't as difficult as I expected. The first few days were tricky and it did take a while to get the hang of, but to make things easier I recommend getting an early flight, so you can drive during the day. It was a lot more stressful at night.
Written by Jaimi McIlravey, this article was originally published on, our partner, IAM RoadSmart's website. We're the official insurance partner of IAM RoadSmart. With so many advanced motorists all grouped together, we can offer very competitive premiums – find out more about our partnership.