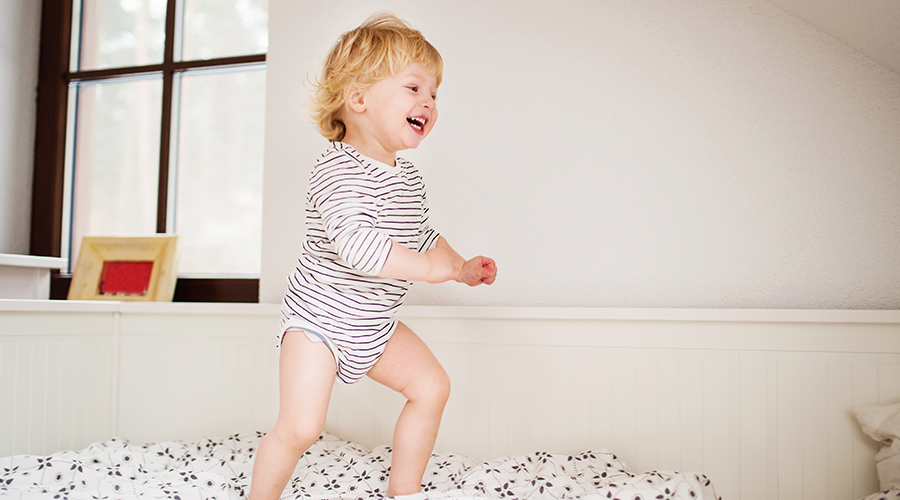 Toddlers seem to hunt out danger. Here's how to make your home as safe as can be for them.
Children aged 0 – 4 years are most at risk of accidents in the home, according to safety charity Rospa. Even some of the things you might have done to ensure your home is safe for your little ones could be putting them at risk. Alarmingly, consumer champion Which? has found that three widely available stairgates are potentially unsafe.
So to double check you're doing all you can to protect your children, let's walk through your home and review some top safety tips:
Hall and stairs
Over 40,000 children under five are hurt each year as a result of falling down stairs, say Rospa.
Fit safety gates at the top and bottom of the stairs. Choose carefully – in recent tests by Which?, samples of the Dreambaby Retractable Gate, the Lindam Easy Fit Plus Deluxe Safety Gate and the Safetots Self-closing Gate, when attached with adhesive pads, all failed to meet the criteria for EU safety standards.
Keep stairways well-lit and never leave trip hazards, such as toys, on the stairs.
Repair or remove any damaged or worn carpet.
Make sure banisters are strong and firmly fixed.
Kitchen
Keep small children out of the kitchen whenever possible – or at least under supervision.
Keep sharp knives, chemicals, medicines and cleaning products above child height or in a locked cupboard.
Wherever possible, buy products in child resistant containers. Be especially aware of liquitabs, used in washing machines and dishwashers, which children may mistake for brightly-coloured sweets, and have been shown to cause chemical burns.
Keep kettles at the back of the worktop. Similarly, use the back burners of your hob, turning pan handles away from the edge, and keep hot drinks out of reach.
Keep all plastic bags out of reach to avoid suffocation.
Mop up spills or clean up any broken glass right away.
Avoid using tablecloths and mats which can be pulled off tables – especially when unsteady toddlers are reaching for something to hold onto.
Consider safety catches or stoppers for drawers and cupboards, to avoid trapped fingers and sharp or heavy objects getting into the wrong hands.
Bathroom
Never leave your young child alone in the bathroom.
If you're using a baby bath make sure it is on a firm surface; in the bath, use a bath mat.
Reduce the hot water temperature on your thermostat.
Keep cosmetics, medicines and razors locked away and/or out of reach.
After baths, make sure you immediately mop up all water on the floor.
Bedroom
Keep animals, especially cats, out of the bedroom.
Install blinds that do not have a cord, particularly in a child's bedroom.
Do not hang toys or objects on the cot or bed that could be a hazard.
Do not place your child's cot or bed near a window.
Secure shelving units, dressers, and other freestanding items to the wall. All furniture should be sturdy and not easy to tip over.
Living room and elsewhere around the house
Put a sturdy fireguard in front of the fire and matches and lighters out of reach; always unplug an electric fire from the socket when not in use.
Keep photo frames out of reach, like you would any other object containing glass.
Keep curtains tied back away from fires, tie up blind cords, and avoid trailing wires or other trip and strangulation hazards.
Make sure low cupboards and drawers are fitted with child proof locks.
Ensure shelves and wall mounted televisions are fitted securely – TVs are a common cause of home accidents among children.
Cover up sharp edges – for example put plastic corners on glass table corners. You could put colourful stickers on patio doors, to remind your child they're there.
Keep furniture, and other items your child may be tempted to climb on, away from windows. Fit child resistant window restrictors but make sure you can get out easily in an emergency.
Wedge doors permanently open to avoid trapped fingers.
Fit loose mats and rugs with a rubber underlay to stop them slipping.
Keep button batteries out of reach, as they can cause severe injury if swallowed.
This article was originally published on one of our trusted insurance partners, Ageas website. To view the original article click here.
Top Tips To Keep Your Kids Occupied While Travelling
Next Article