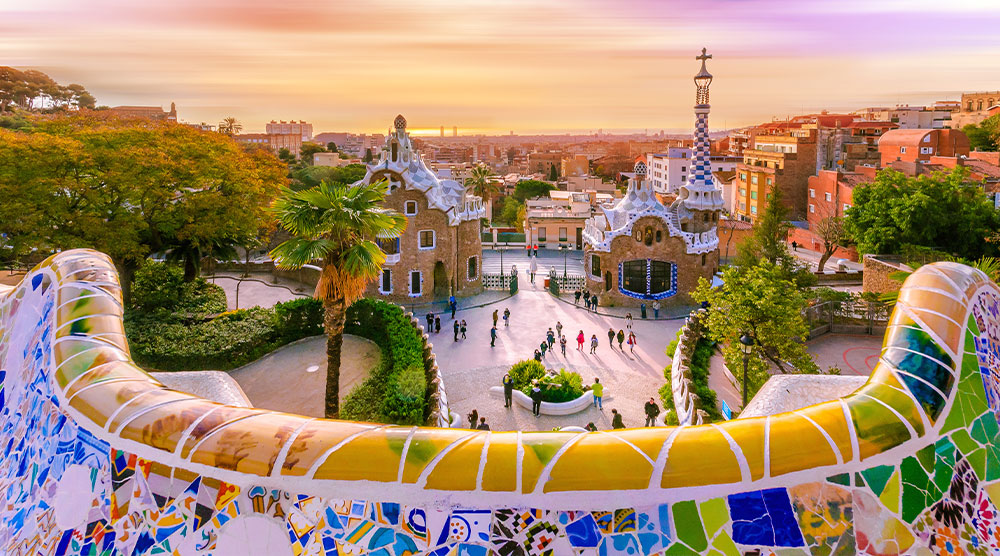 Looking for a little inspiration for your next trip away? Look no further! We asked you what your favourite holiday destinations are – here are our top 5 destinations, suggested by our very own customers.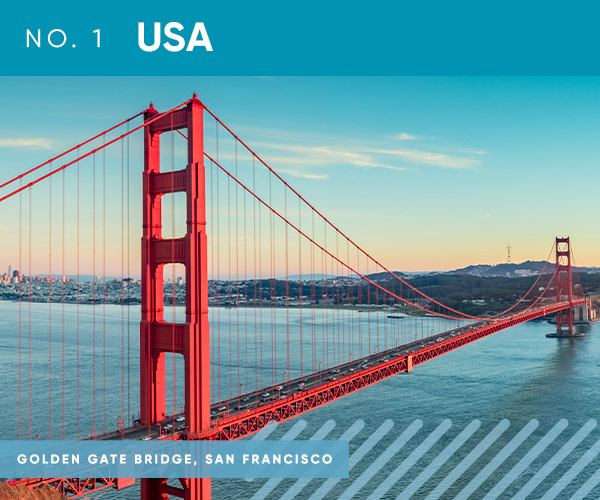 15% of our customers chose the USA. All of us have seen America on our screens in one way or another, and if you haven't, you must have lived under a rock! America appeals to us all, as it has so much to offer. It is a huge, diverse and multicultural place with many different languages, cultures and political beliefs. The kind of diversity you would struggle to find elsewhere. From big cities to small towns, to vast scenic landscapes you're sure to find something that peaks your interest.
What to do: San Francisco- San Francisco has a little bit of everything, and their Golden Gates are there to welcome everyone. There's a lot to see and do for all ages with their large range of tours and activities. From the Hayes Valley Sweet Tooth Tour to the African American Excursions, you're sure to find something in there for you and your fellow travellers!
Yellowstone National Park- for those of you that don't overly love the big city life, this national park would not be one to miss! You can go for a long hike, or simply just enjoy the sunset. The park has many canyons, alpine rivers, lush forests, hot springs and home to hundreds of species of animals.
Travel Time: Optimum weather conditions depend on Different areas of America, but it is advised to travel during the months of April-May and Sept-November.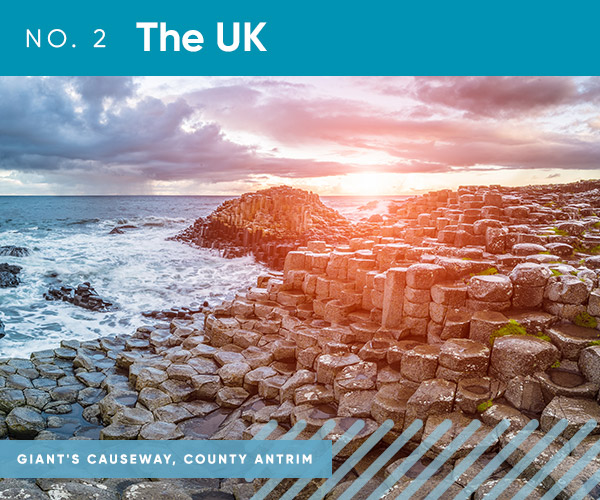 10% of our customers chose the UK. The United Kingdom may not be expected to be second on our list of top holiday destinations, but it is not to be overlooked! The UK has an extensive and fascinating history to be told; from the Tudors to the Suffragettes you are sure to be captivated by something. The history is endless; don't expect to pack it all into one trip! Be prepared for a pint, the Great British Pubs are everywhere, and the British are mad about sports! The UK is also famous for its outstanding natural scenery, some of which are the most beautiful in the world, despite the usual weather!
What to do: The UK is the birthplace of the famous Harry Potter. In London, you can go behind the scenes and see how the films were made, and even enjoy a butter beer! We can't promise you any chocolate frogs though… For the famous scenic views we suggest going to Ireland for the Cliffs of Moher or the Causeway Coastal Route, or Scotland for their outstanding Highlands, or England for the Lake District.
Travel Time: The UK is plausible all year round, however for best weather conditions we recommend that you travel between May-September.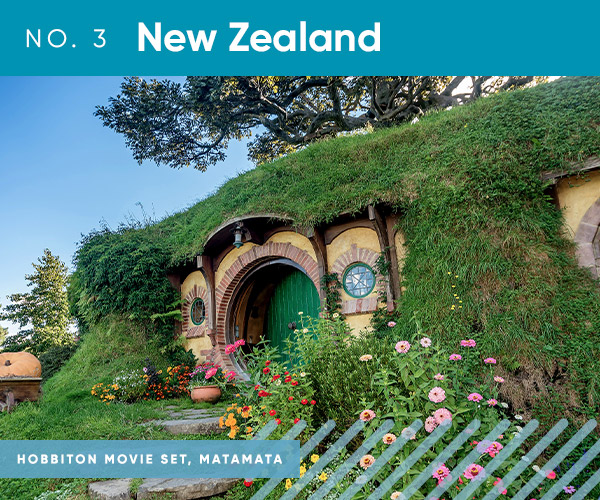 9% of our customers chose New Zealand. For those of you that love nature and the outdoors- you shouldn't miss the chance to visit New Zealand. New Zealand has diverse and unspoiled scenery, with unique wildlife. Their road network is very impressive, and each town has a tourist information centre should you need extra help/advice, making your travelling a lot easier. Another reassurance about New Zealand is their very low crime rates, it is good place to bring your children and women feel safe travelling there alone. And like Ireland, there are no snakes!
What to do: New Zealand is a hotspot for hikers and lovers of water sports. There are endless treks and trails available, with outstanding scenic views. There are many weird and wonderful attractions available, from visiting the Glow Worm caves to swimming with the World's smallest dolphins there is something in there for everyone! If you can, you should definitely try to catch a glimpse of the Southern Lights.
Travel Time: The optimum travel time depends on what you're travelling for. It's worth noting that New Zealand hits its summer from December- February, but we would recommend visiting during spring in September to November for pleasant weather conditions.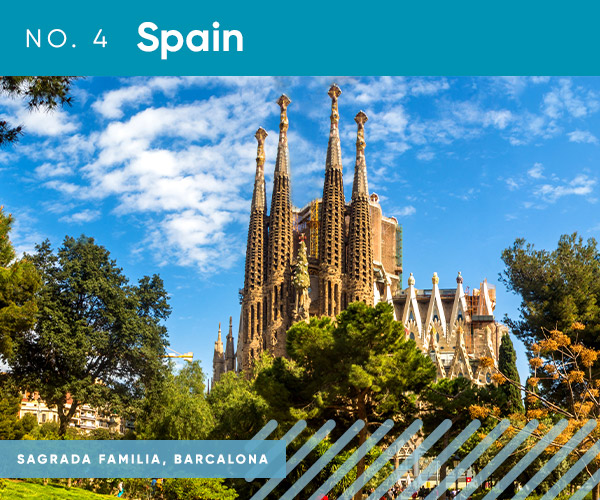 Spain has a very well-known and rich culture. From Flamenco dancing to Fiestas, let España spark your inner fire. The Spanish know some secrets when it comes to good food. Spanish tapas (eaten in Spain) are on a complete different level than the tapas from your local restaurant, we promise. Spain is full of history and museums, and is the home of many famous artists, such as Picasso and Dali. For nature lovers, Spain has the 3rd most UNESCO World Heritage Sites including the Cave Paintings of Altamira and the Pilgrimage Route of Santiago de Compostela.
What to do: Spain has many things to get your teeth into. There are a lot of family friendly activities like amusement parks, waterparks and zoos. The history of the country is worth paying attention to, like the Alhambra in Granada- the palace and fortress of the Moorish Kings. Or go to Madrid for a rooftop adventure, you can enjoy a beer or swim on one of their famous rooftop venues!
Travel Time: To beat the summer rush, Spain is best enjoyed in May-June and Sept-October.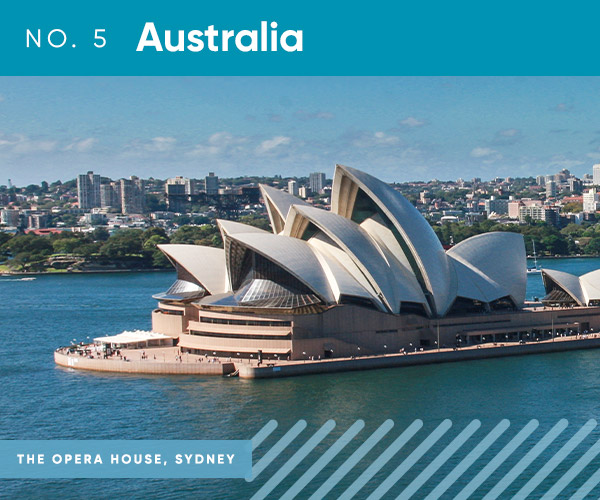 Home of many (if not all) of the 'Bucket List' experiences, it's not surprising that Australia is part of the top 5 destinations that our customers chose. For an island get away, a cultural or spiritual experience or an adrenaline rush- Australia's got it! It has an unbelievable size and vastness, and has many things to offer you on your travels that you wouldn't see anywhere else.
What to do: The possibilities in Australia are endless. Many tourists island hop to take in little snippets of Australia and find little private beaches and tropical scenes. You can ride the Ghan train from one end of the continent to the other, in just a few days you will see amazing views of the tropics, mountains of the Flinders Ranges, scorched deserts, the Katherine Gorge and the Red Centre.
Travel Time: Due to the size of Australia, different areas will have optimal weather conditions, however we suggest going during the months of September-November to avoid the uncomfortable summer climate.