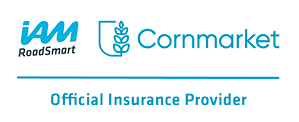 Insurance for IAM RoadSmart Members
We're the official insurance partner of IAM RoadSmart. As your impartial broker, we can offer great value car and motorbike insurance policies which recognises your advanced driving skills.
We also offer great value home, GAP, pet & temporary car policies with benefits tailored around you. We champion that advanced drivers and riders deserve the right level of insurance cover at the best possible price.
Car insurance policies from £1901
8 out of 10 existing IAM RoadSmart members renewed their policy with Cornmarket2
Specialist team of IAM RoadSmart advisors
UK based claims teams to assist you
Great benefits tailored to you
Trusted broker for over 25 years

We've proudly managed the IAM RoadSmart's official insurance scheme since 2005. In that time we have built up great partnerships with selected insurance providers who can offer very competitive premiums.
Your family can also get a competitive car insurance & motorbike insurance cover with our Family cover options.
Don't forget to talk to us about your home insurance, GAP insurance and travel insurance needs.
I have been very impressed by the passion and dedication of Cornmarket in bringing great value products and first-rate service to our members. The renewal retention rates and new quote to sale conversion rates are market-leading and underline the great relationship that exists between Cornmarket and IAM RoadSmart.
Tony Greenidge –  IAM RoadSmart Interim Chief Executive
Select a product you're interested in:
What our customers say
Home Insurance Customer
"Paul was courteous, polite and helpful.  No pressure salesmanship.  Plus, he came back with a known and trusted insurer - I am about service and back-up support when needed."

Mr J Hirst, April 2020
Car Insurance Customer and LGV Driver
"You price matched another company with better add-ons for the same price and reviews stated you have excellent customer service - I found that to be true when I was speaking to Natalie getting my car insurance sorted."

Mr I A Williams, April 2020
Motorcycle Insurance Customer and IAM Roadsmart Member
"As usual Dean was a delight to deal with, was very patient with my requests for call backs and a big factor in choosing to renew with Cornmarket each year is the level of care and service Dean provides me with every year."

Mr C Jenkins, April 2020
Car Insurance Customer and IAM Roadsmart Member
"My experience with Daniel was exceptional. He rang and we discussed the policy, I was unsure of some information I and explained this to Daniel requesting he gave me a follow up call the next day . I was asked what time suited me and he duly rang back the next day as promised. The policy was competitive and comprehensive."
Mr R Hughes, April 2020
IAM RoadSmart
"The advisers are real people:- easy to talk to, well informed and helpful. They are what make the difference for me."

Miss E Johnson, July 2019
Teacher
"The service was excellent - it was friendly, explained in detail, professional and not pushy. Stephen was a lovely person to talk to."

Mr F Scullion, June 2019
IAM RoadSmart
"Ayrton understood my needs and used his expertise to find me a policy that suited my needs at the right price."

Mr R Kitcher, June 2019
Cornmarket Customer
"Excellent customer service from Paul gave me confidence that you would look after me in the event of a claim."

Mr B Adair, June 2019
IAM RoadSmart
"I have been with you since I passed my advanced motorist test. There is a charm and helpfulness from your staff."

Mrs J Mercer, November 2018
Professional Driver
"Competitive prices were the initial reason for switching to Cornmarket, but the reason we've stayed is the outstanding, personal customer service"

Mr K Begley, November 2018
Professional Driver
"Nicola, the staff member I was talking to was absolutely fantastic explained everything I need to know."

Mr L Allen, November 2018
Professional Driver
"Very helpful and friendly people to do business with and always has been over the years I have used Cornmarket insurance."

Mr I Meadows, October 2018
Motorcyclist
"The staff member I was talking to was absolutely fantastic explained everything I need to know.  I was very satisfied."

Mr Bailey, October 2018
Teaching Union
"Natalie was superb and we really appreciated the support provided by Stephen in motorcycle department."

Mrs McFarland, October 2018
Available to IAM RoadSmart members who've passed the IAM RoadSmart Car/Motorbike Test and meet acceptance criteria. Policies are arranged with selected insurers via Cornmarket. 1 10% of all comprehensive car insurance policies sold between 1st January and 30th November 2018 cost £188.88 or below. 2 80.2% of existing IAM RoadSmart customers renewed their car, motorbike or home insurance policy from 1st January 2018 to 16th November 2018. Acceptance criteria, terms & conditions apply to all insurance products.